Vases are a must to all those people who love to have fresh flowers enhancing their rooms. So why buy a vase from IKEA, which is made in China, in a mould, then distressed to make it look handmade, – when you can buy a real individual item from us for about the same price?
Moon Vases
Moon Jars were originally made during the Joseon Dynasty (1392-1910). They were curvaceous, plain white porcelain jars resembling a full moon. They were made customarily to contain flowers or wine, but they are also ritual, votive vessels.
Gerry has put his own interpretation to these ceramic pots. Each one is unique…
Pit Fired Pots
These pots are all unique. They have been fired in a pit using wood, sawdust and leaves. The colours come from the material which was wrapped around the pots before firing. Because of the low temperature reached, they are decorative objects only and are not waterproof.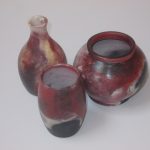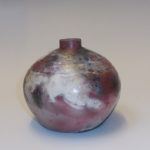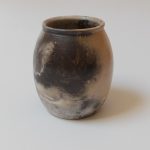 Planters
Plant pot holders make useful presents for plant lovers….