Category: Studio Ceramics
More individual posts – unusual styles and glazes.
Vases inspired by the traditional Moon vases from Korea.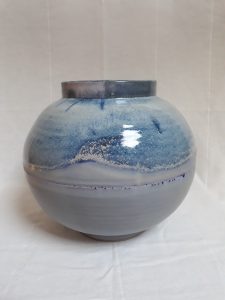 Introduced in 2018 – A collection of ceramics, designed for a more contemporary look. Using a white clay which is thrown on the wheel close to a state of collapse, Gerry is transmitting a sense of movement to the finished pots. Fired in a white glaze, with an occasional splash of colour, the pots will enhance any home environment.
Our vases are available in a number of styles and colours. The ones below are glazed in a copper red reduction.